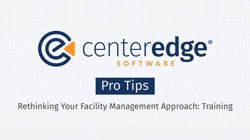 Systems are ready. Offerings are updated. Capacity management controls are in place. For many facilities, it's showtime. But is your team ready?
To wrap up our blog series, Rethinking Your Facility Management Approach, we'd like to share a quick word of encouragement along with a few tips to consider when outlining your training plan for reopening your FEC. Take these three final steps to prepare to reopen.
No. 1: Watch the Pro Tip.
No. 2: Revisit Your FEC's Next Steps.
If you missed any part of Rethinking Your Facility Management Approach, or just need to revisit one of the topics as you reopen and need to make further adjustments, you'll find an updated introduction with easy-to-find links here.
If you have questions or need help making any changes to your CenterEdge applications, our training team is here to help. Contact them at training@centeredgesoftware.com or connect with them and other Centeredge users in the CenterEdge Community.
No. 3: Get the training resource.
Use this knowledge assessment and training checklist to help you deliver consistent POS training to update and refresh your team on new offerings, sales scenarios and transaction processes.
We'd love to hear from you about your updated plans, and how things are going as you begin to welcome guests back. Share them with us in the comments or on Twitter.
Do you have a CenterEdge Pro Tip to share? Send them to showell@centeredgesoftware.com.
Struggling with keeping all aspects of facility management together? We get it. Let's chat about how CenterEdge can make managing your facility easier. Schedule your free virtual demo today or call 336.598.5934, Option 1.