You only get one chance to make a first impression: Spoiler alert – Admissions staff are the key.
Frontline training is obviously a must in every entertainment venue. But many organizations take a haphazard approach to training which can put your facility at risk for creating a negative first impression. Don't teach your team how to smile but forget to include how to make change (no, it's not as common sense as you might think). Also remember that your cashier interaction must go beyond the transaction. The key is an effective training process that ensures you have all the bases covered. Here are five steps to help you implement point of sale training that sticks.
1. Design an intuitive point of sale.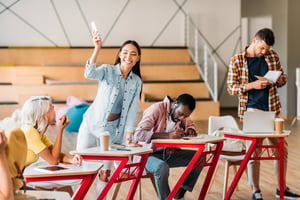 Before you get to training, it's important to reduce confusion points when you design the screens that team members will interact with. Make it easy for them to at-a-glance select the right button for what they're selling. Use button placement, pictures and colors to help speed processing time, and button groups for related items, such as a group that includes multiple ticket types and bundles for popular attractions.
Modifiers can also help you link items that need to be offered or sold together. Typically, they are configured for items like flavors of soft drinks and slushies, but did you know you're also able to set up a modifier that prompts your team member to offer a larger drink when a small one is requested?
Other ways to use modifiers are to suggest add-on items, such as jump socks, bowling shoes or locker rentals or anything else, really. For example, you could sell a session of laser tag or go karts and include a modifier to prompt your team member to offer a game card add-on or another related package. Using system prompts such as this helps build consistency in your upselling and suggestive selling processes.
Differentiating screens can be another great way to add speed to your cashier transactions. Your main screen could include the most common items you sell, but with an additional screen or screens for birthday party options, passes, concessions or anything not commonly sold at admissions. Having uncommon items available for sale by the cashier (but out of the way) means that you're able to provide one point of interaction for the guest without creating a chaotic interface for your team member in the day to day.
From a pricing perspective, set pricing behind the scenes with day or happy hour pricing and set peak and offpeak pricing to automatically appear on screens at the right time and on the right day, minimizing the potential for human error at the point of sale.
2. Teach team members the "what" and the "how."
Because technical knowledge and key soft skills are both necessary for excellent guest service, it's important that training provides content on what team members should do technically at the POS and how to conduct themselves with your guest. A good training program will include hands on technical practice in your software while also providing key guest service skills training like eye contact, welcoming facial expressions and body language, key conversation language for selling and upselling – and lots of opportunities to practice their skills in both areas.
Your facility management software should have a training mode, which allows team members to practice real world scenarios in a virtual environment. After classroom instruction where you discuss your offerings, your competitive advantage and key language to use when interacting with guests, provide role play opportunities at the point of sale prior to them going live on the floor. During these simulations, put your new team members' knowledge to the test while you look for key teaching moments and fine-tuning opportunities. It shouldn't take your team long to learn how to use your point of sale but putting together the technological side with the wow service side takes practice. Be prepared to jot down what team members are nailing and what they're not so you can provide specific feedback after each practice scenario. Bonus points if you do this as a group and get teams talking about what they think went well and what could have gone better. An observation worksheet with key components of your facility's service vision and touchpoints will give you an objective framework from which to coach.
3. Vary your training approach.
Many managers get so busy that they train team members only by having them shadow a seasoned coworker. Job shadowing is a great approach as one component of a well-rounded training program. However, people learn differently and at different paces so it's best to provide a varied approach to training.
Classroom teaching is still an effective way to teach principles like your service vision, interaction touch points, target language and your products and offerings. Create highly engaging, interactive sessions with games, activities, role play and even a blend of live and virtual reality/tech driven learning – this ensures that trainees get what they need in the way they prefer to receive information. Then set up mock scenarios that you control so they practice different types of interactions at the point of sale with you, giving timely feedback and coaching until team members feel comfortable, which will vary by the individual.
Once they have a foundation and are ready to deal with your real guests, then some shadowing and tandem work with experienced coworkers will help them soar with a net ready to catch them if they need it. Have a structure in place that can give them the time they need to begin working autonomously when they're ready.
4. Train them before the coupon or offer comes out.
Understand that training doesn't stop once a team member is onboarded. Have regular training in place to keep up momentum and keep up to speed on offerings like special coupons, discounts, packages and other offerings. An exciting special offer that you've emailed to your entire database and touted on social media can be amazing – or a big point of frustration – for your fan base depending on how you implement. How many times have you gotten a great offer from a retailer only to arrive at the business and engage with a cashier who had no clue about the special and even less understanding of what to do when presented with the coupon or voucher? Too many. This is a huge point of customer friction that tries guests' patience. Be sure that when you plan promotions and specials you're leaving time for training your team on the upcoming promotion and how to interact with guests, and the point of sale, when guests redeem them.
5. Monitor progress.
Just like in every other area of your business, great leaders inspect what they expect. Monitor staff effectiveness at the frontline by spot-checking guest interactions during busy times, using Cashier Transaction and Return reports to determine where staff might need some coaching, or even by hiring secret shoppers to assess strengths and weaknesses. Incentives, prizes, bonuses and competitions can all be great tools for boosting team member buy-in (which results in more sales!) Be just as intentional about your ongoing training as you are about onboarding to avoid guest service slippage (or what I like to call "creep.)"
Keep team members motivated and moving forward with a management style that provides the right mix of goals, coaching and incentives that will ensure your team is on the right track to providing guests with an accurate transaction that delivers the EPIC service standards of your facility.
For more information about what CenterEdge can do for you, check out CenterEdge Advantage Point of Sale.