Don't make the mistake of running event sales in multiple locations like alien entities. Build the strength of your operation and your brand with these tips.
Building a growth-minded sales organization can be difficult and all too often, growth occurs much faster than the developed systems and organizational best practices can handle. This can especially happen when an operator acquires an existing facility. Many get so busy that they fall into the trap of "if it isn't broken, don't try to fix it." However, just because a process isn't broken, doesn't mean it's working as efficiently as it can.
If the thought of a "call center" approach has scared you, fear not! A carefully implemented centralized party booking strategy can be a great way to maintain superior office coverage for your peak call times while comparing labor costs against call flow and sales. Read on for six steps to effectively implement a centralized booking center that will maximize your marketingefforts and sales strategies for your entire operation.
No. 1: Determine your sales office needs.
It's vital that you get real with what it will take to build a winning sales organization, and that starts with numbers. Analyze when most of your sales calls come in to determine peak time for inbound team staffing. Consider your current and projected event sales and the future goals or rate of increase desired in each facility. Then determine how many dedicated outbound sales and/or marketing hours will be necessary to achieve those goals. Keep in mind that the average outbound salesperson is going to close 10% of the sales leads they connect with when factoring in how many opportunities they'll need to seek.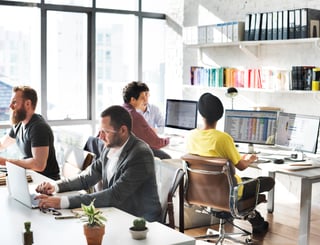 Now that you've analyzed what you currently have in place, ensure your existing team can manage the increase or if you will need to hire additional staff. If you're an operations-minded leader, this might be the right time for some tough love. Salespeople must conduct sales functions to effectively market your facility and sell your events. Every hour spent in non-sales activities costs your business money so compare your goals against the number of hours your sales team will dedicate to that process and adjust where necessary and then protect that time.
No. 2: Build a cohesive strategy.
One of the most important benefits of a combined sales team is the deeper impact potential of your marketing and sales efforts. With a brand-wide approach, you can decide important brand messaging, promotions, and in-store efforts that can be more consistently adapted.
A centralized sales team can also be better positioned to leverage learnings and best practices for well-planned events, up and coming trends, and execute a more cohesive sales strategy when they are singularly focused on those efforts.
Similarly, you may have analyzed your per capita spending at all your facilities, and one is clearly ahead of the others. Perhaps one site consistently upsells additional attraction time or gameplay, or a popular food offering. Look for these types of positive deviance and then develop strategies to roll them out to the rest of your brand.
A word of caution though, as George Bernard Shaw states, "the single biggest problem with communication is the illusion that it has taken place." Don't make the mistake of under-communicating marketing or sales initiatives. Your team needs and wants to be in-the-know so they can be on the right path moving forward. Gaps in strategic planning communication cause a team to lose sight of their goals, head in unproductive directions, and succumb to sinking morale if they feel like "the people upstairs" have lost touch with the folks on the ground.
No. 3: Improve your bench strength.
A well-planned and centralized events office enables you to manage coverage during peak times and team member time off while helping you leverage the team's talents in more than just one location. A top team member's presence in a sales office offers them a leadership opportunity to mentor less seasoned team members and improve your team's overall bench strength.
Provide regular, structured meetings to discuss sales goals, marketing events and specific sales opportunities and challenges. Great salespeople are relentless of their pursuit to improvement so position your business as a growth-minded organization and provide consistent time for nuggets of sales training to help them sharpen their skills and improve their sales game. Training fosters growth and prevents the dreaded "wonder what the grass looks like over there" syndrome.
Many businesses go wrong with a centralized office when they fail to train their sales teams on a site-specific package or attraction differences between parks. The trick: Keep it personal. No one likes to feel as if they're talking to a call center so far removed from their local area that the experience seems irrelevant or disjointed.
Staff, when possible, should have full knowledge of the experience offered at each park. From the party and walk-in traffic flow to nearby landmarks and lodging options, they should be able to speak as if they're sitting in the sales office onsite. If your staff doesn't feel like they are a part of each park, your potential guests will notice. And if events and birthday parties are special purchases (and they are), nothing says "cookie cutter" like an impersonal party booking experience.
No. 4: Streamline your processes.
When systematizing the sales process remember that the more consistent your offerings between facilities, the easier for a centralized sales team to avoid mistakes. Use an easy-to-follow script to manage the booking process, with as much consistency as possible.
Your booking software should provide a seamless experience so that your team can view each park's capacity, packages and available extras in real time, to maximize guest experience and your earning potential.
No. 5: Get out and go mobile.
Not only should you maximize the efficiency of your inbound sales office, but consider ways to effectively sell outside the office. A centralized booking software platform enables outside sales staff to easily book events for any of your locations from any location outside your park. Just like your inside sales team, they'll need to be able to view capacities and take deposits in real time to secure bookings in the moment, eliminating the need for additional phone calls and a drawn-out sales process.
No. 6: Think globally!
Remember to routinely put your thinking caps on. Your outbound sales team can be door-to-door sellers but think also about strategic marketing events that make sense for multiple locations. This can include the local chamber or BNI groups, street festivals, district-wide school events, or any offsite community functions where you can have a sales and marketing presence that can prospect, excite your community and book events, right on the spot.
There's so much potential for growth if you're strategic about your people, process and the systems that help you manage it. Have you been missing out? To learn more about STAGE Centralized booking, contact us at info@centeredgesoftware.com!