CenterEdge Software
, a leading provider of point-of-sale, online sales and reservations, and ticketing systems for entertainment and recreation facilities, is celebrating its 15th anniversary serving the amusement, entertainment and FEC industries.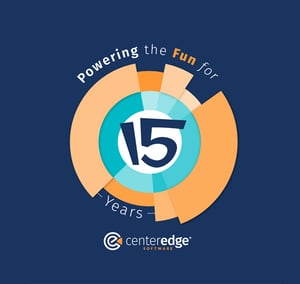 "For the past 15 years, our team has kept a keen eye on the evolving tech trends of consumers in order to help clients keep pace and grow. With that said, we always strive to put our clients – and teammates – first. As they grow, we grow," said Marcus Mayer, CEO, CenterEdge Software. "Without the dedication and commitment of our team members and the support of our clients, we would not have been able to reach such a milestone. Thank you for fifteen years!"
Servicing out of Roxboro, NC since 2004, CenterEdge has redefined the successful operation of family entertainment centers, trampoline parks, waterparks, amusement parks and specialty attractions. Its core values stand strong, earning the company the trust of industry leaders across the country.
Partnership, integrity, accountability and innovation: these values are carried out by a passionate, close-knit team, thus ringing true in everything CenterEdge builds.
To learn more about careers at CenterEdge, click here.
About CenterEdge Software
CenterEdge is serious software for a fun business, offering the same kinds of features demanded by large-scale entertainment destinations in a package that is affordable and user-friendly enough for entertainment, amusement and adventure businesses of just about any size. CenterEdge Software has been enabling the easier and more effective operation of nationwide family entertainment centers, trampoline parks, water parks, museums, large-scale amusement parks and more since 2004.
For more information, visit the company at centeredgesoftware.com or follow CenterEdge on LinkedIn, Twitter or Facebook.