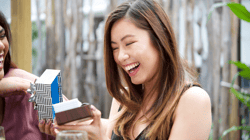 Review your data, plan your strategy, and implement your program better than ever.
Today's CenterEdge blog comes from one of our newest CenterEdge trainers, Kate Jackson. Kate's a long-time industry veteran who, before coming to CenterEdge, spent eight years as a franchisee trainer for a large entertainment center chain. Bottom line, she knows a thing or two about using your CenterEdge Software tools to manage your business. And with the holidays coming up, Kate wanted to share a few tips and best practices to help you maximize your gift card revenue potential. Here's what Kate had to say:
By Kate Jackson
Step 01: Prepare Your Facility.
The holidays are coming up fast, and you don't want to realize too late that you missed an opportunity to maximize your revenue! Gift cards sales are important year-round but make a huge leap during the holiday season. With all the supply shortages across the country, now is the time to prepare to take on the holiday rush!
Review Your Sales: First, if your facility has been open for a holiday season in the past, now is the time to look back on those sales reports to see the number of gift cards that you have gone through before! One useful report is the Sub-Category Sales Detail report, which will show you all of your sales for a given date range by Sub-Category.

Place Your Orders: Once you have estimated the number of holiday gift card sales you would like to see, make sure to get your orders placed in time! Don't forget to order any supplemental items that you might need, such as gift card holders, counter displays, and marketing materials. Please contact internalsales@centeredgesoftware.com to order your gift card stock for the season. Our card vendor's intake volume increases dramatically over the last 10 weeks of the year and production times will quickly increase as they become inundated with orders, so order early.
Step 02: Plan Your Strategy.
Keeping your current sales, projected sales, and any goals you have in mind, it's time to create a game plan for any promotions that you may want to run this holiday season! There are many different options that you can use to promote your holiday gift cards, depending on what you think is right for your facility and your customer base.
General Awareness: Maybe promotions and discounts aren't for you, that is ok! You can still maximize your gift card sales this upcoming season. Are you offering gift cards online? If so, ensure they are highly visible on your website and social media pages. Also, decide if you would like them to be redeemed as will-call tickets or if you would like to give the customer an option to ship them. For more help with this, see our article on Order Fulfillment

.
Carefully consider the language you're using when publicizing your gift card sales events or promotions. A gift card isn't just money; it's a ticket to fun! Maybe it sounds something like:
"More Than Just a Gift. It's an experience.
We're passionate about fun! Give an XYZ Theme Park gift card this holiday season, and make memories with the people you love all year long. Don't just give a gift. Give an experience."
Buy X, Get Y: You may want to run a promotion allowing the customer to pay one amount but receive a gift card for a larger amount. This can easily be configured to happen automatically in-store or online with certain items while leaving your traditional gift cards untouched. You can even sell these discounted gift cards through a hidden link if you would like to ensure that they are available only to customers who follow a specific online promotion.

Passes: Your holiday promotional gift cards do not have to follow traditional gift card guidelines! Using passes, you can create specific cards and control exactly what can be redeemed with them instead of discounting a traditional gift card that's redeemable for any item. The opportunities with passes are endless! Choose specific date ranges, days of the week, number of uses per day, and what they are valid for. If you would like to schedule time with a trainer to help you go over and build a Holiday Pass, reach out to us at

t

raining@centeredgesoftware.com

.



Step 03: Implement strategically.
The key to having a successful promotion is effective implementation. Here are a few action items to get you on the right track for a great season:
Review past sales, audit your current inventory, and place your orders now to be ready to sell when the time comes!

Choose which type of promotions you may want to offer, including any limitations, offer terms, and validity date ranges.

Set up your items, discounts, or passes in your software and perform a test run to ensure it is selling as intended.

Train your team! A well-trained team makes all the difference when dealing with your customers. Make sure every team member knows all promotions that will be running, all limitations on these promotions, and how to sell and redeem them properly.
Make your plan now to hit big this holiday season! To schedule time with a trainer for assistance with software set up, contact training@centeredgesoftware.com.

To order your facility's gift card stock, contact internalsales@centeredgesoftware.com.